Our History
Finger King Foods Limited is a private limited liability company registered as part of Adedaas Group of Companies. It was incorporated under the Companies and Allied Matter Act in 2004, with diverse object clause in its Memorandum of Association. One of the principal object clause is in the provision of small chops & corktail drinks service for various forms of occasion and events.
The company is presently headquatered in Block B, Suite 307 Sura Shopping Complex, Simpson Street Lagos.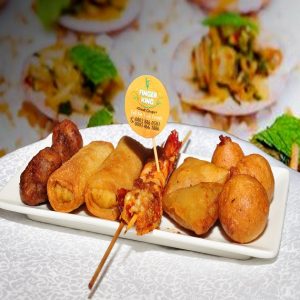 Vision
We have made remarkable progress over the past years in the event and parties entertainment service. Below represent a few list of our clients.
Mission
The Mission of Finger King Foods is "to cater for all works of life at affordable prices and unique tastes through well cultured workforce to give our clients value for their money" which involves offering top-class event experience with flawless execution to business and private clients at a competitive rate.
With Finger King Foods running your event, the small chops will be delicious, the service will be excellent and the guests will be wowed.
The most important aspect of our business is trust. It is the goal of our company to have 100% customer satisfaction in regards to quality, friendliness, time to completion and to discover new ways to exceed the expectations of our clients.
Get in Touch
We appreciate you and guarantee a response within 24 Business hours which would include our Packages and Pricing. Whether you're looking for us to cater for your birthday, indoor or outdoor event, colleague promotion or just want to enjoy yourself to the fullest, we are here to help
---
MAKE A RESERVATION
VISIT US
BLOCK D4, SUITE 13, SIMPSON STREET, SURA, LAGOS ISLAND, LAGOS, NIGERIA
IKEJA OFFICE
NO 4B ADEGBEYEMI STREET, OFF ALLEN AVENUE, IKEJA